This hands-on activity based CSM® certification course is taught by a Certified Scrum Trainer (CST) with over 25 years global IT industry experience. Learn more about your trainer: https://www.linkedin.com/in/kirant1
Upon successfully completing this two-day class you will be a Certified ScrumMaster® (CSM). On the 2nd day of the class or after the class you will take the online ScrumAlliance® exam for your certification to be valid for 2-years.You may take exam on the 2nd day itself.
Your tuition includes 2-year membership in ScrumAlliance® and all exam fees. Story Point estimation cards are provided
All students earn:
– Scrum Education Units (SEUs)
– Project Management Institute (PMI®) members earn PDUs
Free enrollment in ScrumAlliance® authorized AgilePA Users Group
Continental breakfast and lunch provided during class.
Topics and hands on activities:
Day 1:
Agile and Scrum Introduction
Overview on various Agile Methods
Why Agile? Team activity
Origins of Scrum and  Understanding Scrum
Basic Scrum Engine, Agile Manifesto
Sprints Team activity
  Four Meetings
  Four Roles
  Scrum Artifacts, non-scrum artifacts
Scrum and Compliance
Non-Scrum Roles Team activity
Various scrum team structure – Discussion on DevOps, globaly distributed scrum team
How do architecture, DBA, and other supporting roles fits in Scrum?
Enterprise Agile scenarios – 10, 20, 30, 40, …. 120+ scrum teams
Scrum Values
Scrum Phases
Scrum Simulation – Non-IT Case Study – Multiple Team activities and role play
Sprint planning meeting
Daily standup meeting
Burndown charts and project reporting
Sprint review and retrospective
Day 2:
Q&A, Refresher from Day 1
Agile Transformation Team activity
Agile Portfolio and Release Planning
Day 2 – IT Case Study multiple activities and role plays
Vision Statement
Product backlog creation Team activity
Various Estimation Techniques, Prioritization Team activity
What is User Story? Template and Simulations Team Activity
Acceptance Criteria, Definition of Readiness and Definition of Done
Determine Team Velocity
Release Management and Project Reporting
Scaling and Global Teams
Agile Metrics that Matters
Agile Contracts
Scrum and CMM, Scrum and XP
Closing Activities and Graduation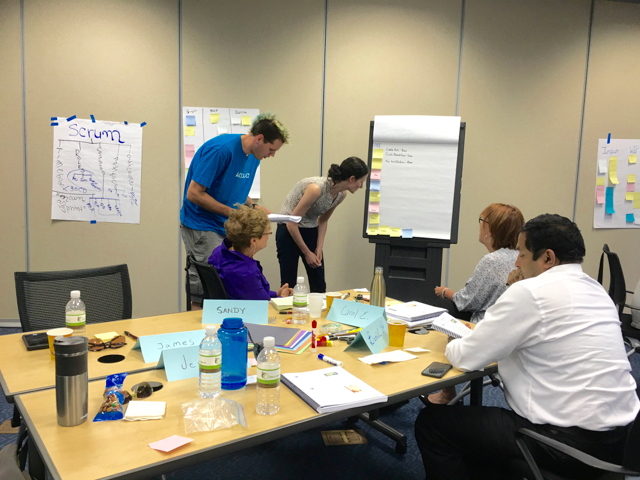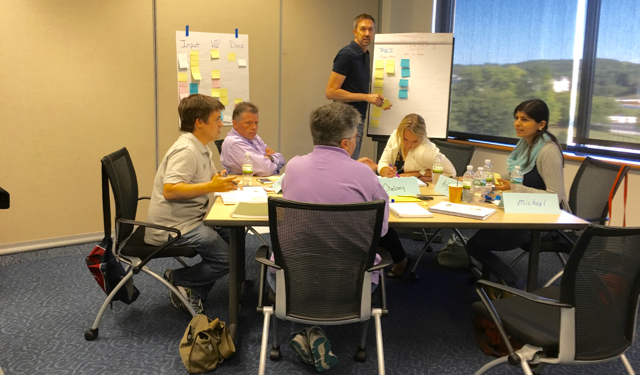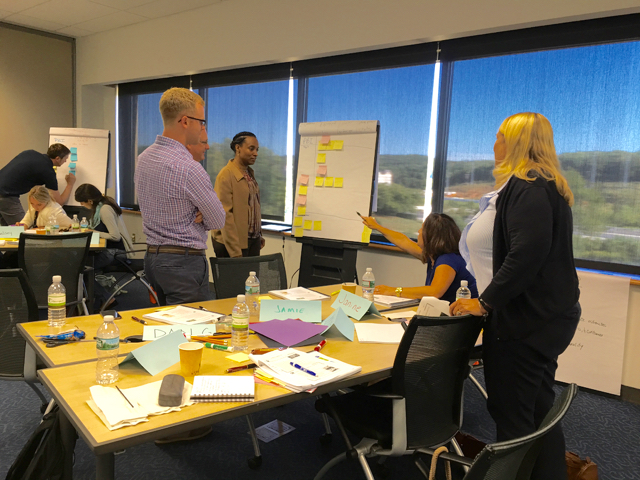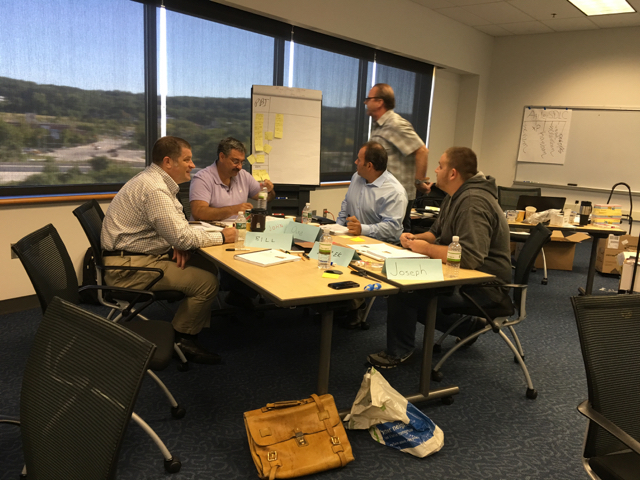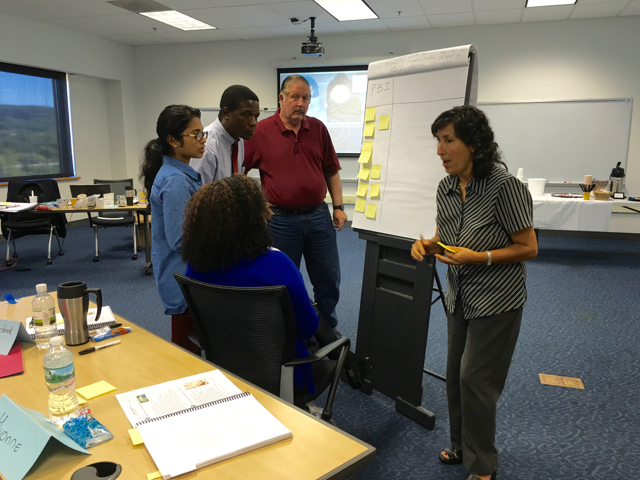 The certification class is appropriate for all software team members, including project managers, team leads, development managers, product managers, architects, developers, testers, as well as executives like CIOs and CTOs.
FAQs
What are my transport/parking options getting to the event?
Our Philadelphia class is in walking distance to Jefferson Train station. DailyAgile is not responsible for parking fees.
What can/can't I bring to the event?
Open mind and lots of energy
Where can I contact the organizer with any questions?
info@dailyagile.com , 1.800.758.AGILE(2445)
Is my registration/ticket transferrable?
Yes, you may transfer your ticket to another participants 7 days prior to the class.
Can I update my registration information?
Yes, you will be able to change your e-mail or name during the class.
What is the refund policy?
Please refer to: https://www.dailyagile.com/refund-policy
The name on the registration/ticket doesn't match the attendee. Is that okay?
Yes, We will be able to change it during the class.
Agenda
Short, five-minute exercises and case studies will be scattered throughout the two-day session.  Longer exercises are detailed below.  Ample material is available for this session, and while all essential information will be covered, time spent on each topic will vary depending on the composition of the class and the interest in particular areas.  A more detailed course outline is available at our website.
Agile Thinking:  In order for us to understand the benefits of Scrum and the nuances behind its framework, we begin with the history of agile methods and how relatively new thoughts in software development have brought us to Scrum.  "The Art of the Possible" is an opportunity to understand how small changes in behavior can have a large impact on productivity.  This also turns our thinking towards new ideas and a willingness to change for the better.
The Scrum Framework:  Here we'll ensure that we're all working from the same foundational concepts that make up the Scrum Framework.  We'll review the three areas that impact an organization most as we move ahead with Scrum and explain the different Scrum Roles, Artifacts, and Meetings.
Implementation Considerations:  Moving beyond Scrum's foundational concepts, we'll use this time to dig deeper into the reasons for pursuing Scrum.  We'll also begin a discussion of integrity in the marketplace and how this relates to software quality.
Exercise:  Integrity at a fast-food restaurant.  During this exercise we'll review various options regarding an employee faced with a difficult situation.  The importance of providing high quality products to our customers will be explored.
Exercise:  understanding customer expectations.  This exercise is the beginning of an extended exercise involving agile estimating and planning.  During this first portion of the exercise, we'll work with a fictional customer who has a very demanding schedule and understand how our assessment of project work plays a significant role in customer satisfaction.
Exercise:  The 59-minute Scrum Simulation.  This popular exposure to Scrum asks us to work on a short project that lasts for just 59 minutes!  We'll walk through all of the key steps under the Scrum framework as we work in project teams to deliver a new product.
Scrum Roles:  Who are the different players in the Scrum game?  We'll review checklists of role expectations in preparation for further detail later in our session.
The Scrum Team Explored:  Since the ScrumMaster is looking to protect the productivity of the team, we must investigate team behaviors so we can be prepared for the various behaviors exhibited by teams of different compositions.  We'll also include small exercises to help participants understand how to handle difficult situations.
Exercise:  Agile estimating and planning.  Although agile estimating and planning is an art unto itself, the Mike Cohn's concepts behind this method fit very well with the Scrum methodology an agile alternative to traditional estimating and planning.  We'll break into project teams that will work through decomposition and estimation of project work, and then plan out the project through delivery.
The Product Owner:  Extracting Value:  The driving force behind implementing Scrum is to obtain results, usually measured in terms of return on investment or value.  How can we help ensure that we allow for project work to provide the best value for our customers and our organization?  We'll take a look at different factors that impact our ability to maximize returns.
The ScrumMaster Explored:  It's easy to read about the role of the ScrumMaster and gain a better understanding of their responsibilities.  The difficulty comes in the actual implementation.  Being a ScrumMaster is a hard job, and we'll talk about the characteristics of a good ScrumMaster that go beyond a simple job description.
References and Advanced Considerations:  This section of our material acts a reference for more detailed information regarding Meetings, Artifacts, and Advanced Considerations.
Closing Topics:  We'll wrap up with direction on where to go next with your Scrum experience, some Scrum reference sites, and our graduation ceremony.
Who Can Attend
This 2-day class is suitable for those practicing or looking to practice the art of the ScrumMaster, but is highly valuable for anyone involved in Scrum (Functional Managers, Team Members, Product Managers, etc.).
FAQ
What project am I expected to do?
Towards the end of the course, all participants will be required to work on a project to get hands on familiarity with the concepts learnt. You will build an app from scratch with full support from your mentors and submit it to Google Play. This project, which can also be a live industry project, will be reviewed by our instructors and industry experts. On successful completion, you will be awarded a certificate.
When will the classes be held?
Classes are held on weekdays and weekends. You can check available schedules and choose the batch timings which are convenient for you.
How many hours of study will be required every week?
You may be required to put in 10 to 12 hours of effort every week, including the live class, self study and assignments.
Where will the classes be held?

Your classes will be held online. All you need is a windows computer with good internet connection to attend your classes online. A headset with microphone is recommended.
You may also attend these classes from your smart phone or tablet.
What if I miss a class?
Don't worry, you can always access your class recording or opt to attend the missed session again in any other live batch.
How will CSm Training help freshers ?
CSM training will help freshers to get the background knowledge and skills to be a valuable part of an Agile team. They can also demonstrate to employers their commitment to moving ahead in their agile career, and will get higher salaries than their non-certified counterparts.
Where are PDU's and SEUs applicable?
PDUs and SEUs are credits awarded by the Project Management Institute and the Scrum Alliance respectively. They recognize your dedication to the Agile world through the award of credits for every educational effort you make throughout your career.  At present, Scrum Alliance members who hold a Certified Scrum Professional®, Certified Enterprise Coach and/or Certified Scrum Trainer credential need to earn SEUs to get recertified. PDUs are offered by the PMI®, and every PMI® certification, except the CAPM®, requires you to earn a specific number of PDUs per three-year certification cycle.
What do you mean by SEUs?
SEUs are Scrum Educational Units, issued by the Scrum Alliance. SEUs are the mark of educational experience needed to earn the CSP (Certified Scrum Professional) certification.
What are the benefits of the 2-year membership with Scrum Alliance?
Through this membership you can join local user groups, online social networks, gain access to deep discounts on gatherings, and additional member-only resources. In addition, CSMs can use a specially designed logo to highlight their credentials.
After CSM training with in how many days do i need to take the certification?
After completing your CSM course, you will receive an email from Scrum Alliance that includes a link to create your login credentials. After receiving your membership email, you have 90 days to take online test and complete the test.
Can the CSM online test be taken without undergoing the training?
No, the CSM test is not intended as a substitute for formal training.